Now that Christmas is past, Japan is getting ready for its own big season, Oshogatsu or New Year's Day, by far the most important holiday in Japan. But before we can start the new year, there's plenty of work to do, beginning with
ohsoji
(oh-SOH-jee, 大掃除), the year-end "big cleaning" that everyone does here, cleaning their home from top to bottom, re-papering the
shoji
doors, replacing the family toothbrushes, and so on. Companies do "big cleaning" too, and tomorrow is the day when all J-List employees will stop work and spend half the day cleaning everything, sweeping and vacuuming and wiping every inch of the office, washing all the windows, and even the front door -- you know a building is clean when the doors have been washed. It's also the season to eat one of my favorite Japanese foods,
mochi
, called rice cakes in English, essentially a block of white rice that's been pressed into a solid shape. Cook the mochi squares over a flame and they will become soft and chewy, just delicious wrapped in nori and smothered in soy sauce. Between cleaning and having Year End Parties and stocking up for the first few days of January when most stores are closed, people are extra busy this time of year. The old name for the month of December is
Shiwasu
(she-WA-su), and that word now describes the frazzled state everyone is in as they try to get everything done before the clock runs out.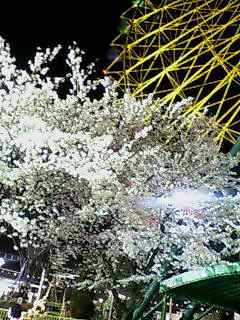 J-List is based in Isesaki, a small city of 200,000 people that's located almost at the exact center of Japan's main island of Honshu, famous for the "Three K's" of
konnyaku,
kara-kaze
and
kakaa-denka
(respectively, a traditional gelatin-like food made from boiled yams, the cold, the biting winds of winter and strong-willed women who are usually more competent than their husbands at getting things done). It's also famous for a giant Ferris Wheel that was for a brief time the tallest in Japan when it was erected in 1985. While eating lunch, I was surprised to see our little city appear on the TV news, with the home of the mayor (who by an amazing chance lives next door to us, hence our house was also visible on the news) talking about his big plans to tear down our perfectly good Ferris Wheel and build a new one about two km to the north, so that people driving by our town on the freeway can oo and ah about it and presumably get off the freeway to ride it. The plan, budgeted at a cool $9 million, is made possible by a grant from the national government, which is picking up 70% of the tab to encourage commercial activity. Japan is positively in love with construction, and every year brings an endless parade of pork-barrel projects that are extremely wasteful of the country's resources, like the infamous Aqualine Tunnel from Tokyo to Chiba, which takes longer than driving the long way around yet costs a whopping $30 to use. Although most residents oppose the new Ferris Wheel project, the City Council has already accepted the money from the government, and no one questions the fact that most of the councilmembers (and the mayor himself) either own or sit on the boards of local construction companies that are well positioned to capture a lot of that $9 million for themselves.
One of the most important qualities for a person to have in Japan is modesty, a reserved, unconceited nature, called
kenson
(ken-SON) in Japanese, and you need look no further than the Japanese baseball players active in the U.S. for an example of this concept. Observe the quiet pre-swing pose struck by Ichiro Suzuki before he meets the ball, the shy smile of Hideki Matsui and of course the pure self-effacing personality of the man who made the current wave of Japanese players possible, Hideo Nomo. Humility is important in the sumo world, too, and one of the reasons famous Hawaiian wrestler Konishiki failed to achieve the top rank of Yokozuna was that he was judged lacking in the humble spirit that a Grand Master of the sport must have. A reserved, humble attitude is tantamount during a Japanese-style job interview, too, and successful applicants will actually talk down their own past work achievements in ways that would be incomprehensible in the U.S., where resume-padding and a bit of exaggeration are all part of getting a job. You can really get a feel for Japan's respect for the conservative and reticent by comparing Japan's #1 fashion doll, Takara's Licca-chan, with Mattel's Barbie. Where Barbie is extremely tall and glamorous with a figure that most girls could only hope for, Licca is a petite, polite girl who helps her mother around the house and studies hard at school, traits which make her more popular with Japanese.
Some random images from Guam. We had to rent an "open car" for the island of course, so I decided to splurge and get a Mustang convertable.
One of the places we visited was a memorial park commemorating the places where the American troops came ashore in 1944. Many people died right where we were walking. Another island, Saipan, is even more famous for its battle scars, and there are many beaches you can't go in because there's ordinance and rusting tanks sitting out there. My son, American and Japanese, was curious about the entirety of the war, and asked how the hell tiny Japan thought they could somehow defeat a huge country with bajillions of natural resources like the U.S.? Good question...
Sugoi. (Amazing)
The kids.
This was our day in Cocos Beach or whatever it was called. Among other things, this beautiful beach serves as a major place where Japanese photobooks and "image videos" are shot.
Daughter Rina relaxes in a hammock.
My feet.
My view. It was good at the time but now I'm back in cold Japan :(
I guess people in warm places have fun in Christmas too, but we were tickled by all the Island Christmas stuff we kept seeing, Santa Claus decorations, plastic snowmen, that sort of thing. It was quite amusing.