Bathing is very important in Japan, and almost all Japanese take time to enjoy a slow bath at the end of the day, which provides time to reflect on recent events or enjoy some "skinship" with the kids, two things that can be lacking in modern society. When we built our Japanese house, we chose a "unit bath" with a nifty computer that fills up the tub with the push of a button. You can set the bath to fill up at a certain time or change the temperature of the bath, or push the "extra full" button when you're especially tired and want a really good soak. Unfortunately our bath computer broke recently (it kept turning on spontaneously and running all night in parody of The Sorcerers Apprentice), so we had to get a new one installed. After the work was done, I asked my wife how much it cost. "I don't know, I didn't ask about money. I left it up to the man K-san sent, and knew it would be okay."
This brings us to one of the concepts I really like about Japan,
shinyo
(SHEEN'yoh, meaning "trust"), a wonderful idea that's used on a daily basis here. For ten years we've always used the same contractor, K-san, whenever we wanted to get some work done on our house, like when we "reformed" (renovated) my wife's parents' liquor shop or redid the kids' rooms. We like him because he does good work, and he makes sure his work is always good because he's got our trust. The electricians and carpenters and others who work with him are part of his "trust network" and they make sure they don't ever do wrong by us because it would amount to "smearing mud on the face" of K-san. The trust extends to money, too -- we can be sure that what we're charged probably won't be outside what is reasonable, even when my wife forgets to ask what it will cost beforehand.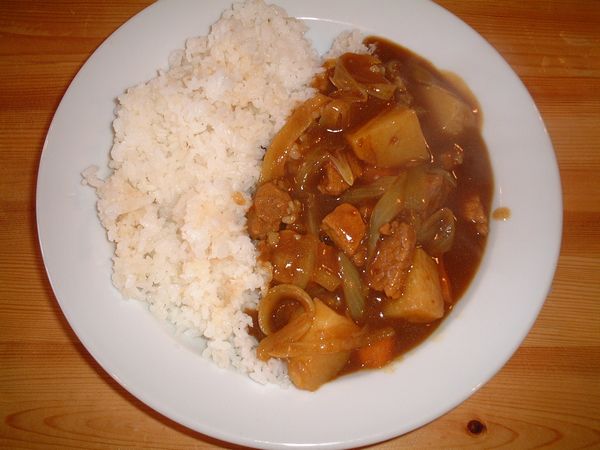 "You've been in Japan too long when you no longer find anything amusing about the concept of 'Vermont Curry.'" Although you may think of certain foods like sushi, sashimi, tempura and sukiyaki as popular Japanese dishes, the honorary national food of Japan has got to be curry, or as the Japanese call it, curry rice. Curry spread from India during the 1700s and from there went all around the world, a gift from the British Empire, enjoyed in Japan now more than any other kind of food save rice itself. Japanese curry is thick and delicious, and many companies compete to make the best curry for the marketplace, with products like House The Curry (the Japanese love to add the word "the" to product names), Java Curry, and Vermont Curry, flavored with the mild kiss of Vermont apples, or something like that. One of the rules of curry-eating is, curry takes even better after it's been left to sit out all night, and "second day curry" is heavenly (although my son discovered that "second day Chef Boyardee ravioli" is pretty good, too). Curry is available in many forms in Japan, poured over a fried pork cutlet; as udon noodles in a curry soup, a popular dish from Nagoya; or as curry bread, a doughnut-like ball of bread with curry inside. Unlike countries like India, Thailand and Korea, the Japanese are wimps when it comes to spicy food, and when we order curry in a restaurant I have to ask them to make it spicier.