If you want to get married on the cheap in Japan, I suggest you do it on
Butsumetsu
("Buddha's Death"), the unlucky day according to a 6-day cycle that can supposedly affect a person's luck, including cause you to get divorced if you aren't careful. This is one of the more prevalent Japanese superstitions, and it's common for people to consult a special calendar that indicates these Buddhist days before making big plans like getting married, starting construction of a house or taking delivery of a new car. People will always aim for the luckiest day (
Taian
, "Big Peace"), and avoid at all costs the unlucky day of Butsumetsu, and in certain industries, this can affect the cost of services provided, e.g. weddings get more expensive on
Taian
, but drop in price on
Butsumetsu
. Today (Saturday) is
Sensho
("Early Victory"), when it's lucky to make important decisions in the morning but not at other times of the day. The other five days, which cycle in order, are
Tomobiki
("Taking Away Together") when you must not have a funeral or the dead will take you away with them;
Senpu
("Early Defeat") when the morning is considered unlucky; the all-around unlucky day
Butsumetsu
; lucky
Taian
; and
Sekko
("Red Mouth") when the 12 o'clock hour only is considered a time of good luck.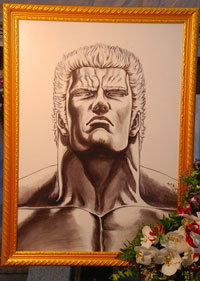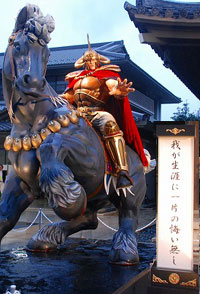 Yesterday a Buddhist funeral was held for one of the most awesome fictional villains in Japan, Raoh, the ultra-strong oldest brother of Kenshiro from Fist of the North Star. One of the most popular (and violent) manga and anime series from the 1980s, Fist of the North Star is the tale of a post-Armageddon world in which all cities and technology have been destroyed and only those who can wield raw strength can survive. Amid all the destruction, four brothers battle each other using ancient Chinese martial arts techniques. The coolest of the bad guys of the series, Raoh has always been the most popular character, and his funeral came complete with a statue of Raoh on his horse, Kokuoh. The funeral was held at the Koyasan Temple in Tokyo and featured all the trimmings, from chanting Buddhist priests and incense and hundreds of fans who had gathered in the rain to pay their respects. It was part PR gimmick, of course, promoting the upcoming animated film that focuses on the death of Raoh. If you're a Fist of the North Star fan, whatever you do, don't watch The Road Warrior starring Mel Gibson or contemplate that the entire series is one big tribute/parody of the film, with various famous personas from the 80s (Stallone, Bruce Springstein, Boy George) added in for story content.
Has a Japanese person ever told you are "good head"? If so, it's a complement, although it might not sound like one. In Japanese, the phrase for "smart" (intelligent) is
good head
(
atama ga ii
), which sometimes gets carried over into English by Japanese who are still learning the language. The English word "smart" (
sumaato
) is used in Japanese to mean slender, well proportioned (as in, "That girl is very smart and stylish"). If someone says you have a bad head (
atama ga warui
), they're saying that you're stupid, the same meaning as that ubiquitous Japanese insult, baka. Some other phrases that make use of the word head include
atama ga katai
(hard-headed, stubborn),
atama ga yawarakai
("head is soft" which means someone who is flexible and open-minded), and
atama ga furui
("head is old," i.e. someone whose thinking is old-fashioned).
We've got a happy announcement for fans of
Hirameki International's excellent visual novels and interactactive anime games
. All games have been marked down in price by $10 or more, from the outstanding
Ever 17 - Out of Infinity
to the gorgeous gothic vampire tale
Animamundi
to the fantastic
Ai Yori Aoshi
double game and more. The interactive DVD games like
Hourglass of Summer
and
Tea Society of a Witch
are marked down too, to just $14.95. Why not pick up some of these great Hirameki titles today?
Mother's day falls on May 13th this year, and J-List would like to suggest that you look on our site for a rare gift for her. Your mother may or may not be a Pocky-munching, anime-watching, nihongo-studying otaku, but even if she's not, we've got some outstanding and fun items on our site for her, from rare Hello Kitty products for her kitchen or bathroom to a Totoro alarm clock or music box, or perhaps some coloring books for grown-ups, which are great for keeping older minds sharp. One thing's for sure, J-List has gifts they won't expect to get!
Here are today's "really cool products" that I thought were especially noteworthy. Note: the J-List links below may be for adult products and should probably be considered "not safe for work" (a yes/no verification screen will be displayed to filter products from our mature site). To see all the J-List products, check out
J-List
or the
JBOX.com
updated products link.
Sport Chu! -- Tina Yuzuki.
Tina Yuzuki continues to tear up the track with her beautiful body and half Japanese, half Portuguese good looks.
Mamegoma Bento Box Set.
Mamegoma is so darned cute, I can't believe it. Mame means "bean" and goma means "sesame seed" so his name is pretty meaningless. But it's cute!
Arita Ware Mug Cup ~ Lucky Cat.
Another nice item for Mom if she likes Japanese things of high quality. This is authentic Arita Ware porcelain, very beautiful to hold and own.
Totoro Alarm Clock -- w/ Umbrella.
One of our most popular Totoro items, a cool alarm clock that plays (what else?) the Totoro theme song when it's time to wake up. Good for Mother's Day? Maybe...
It's fun going to Tokyo and hitting the toy stores to look for things to order for J-List. This is the "Soft Tank" line of toys. They're awfully cute.
However, "you cannot know which toy is inside."
Really, really tiny manga that are actually printed correctly on those little pages.
Man, I am so ready to start smoking, just so I can carry around these cool Gundam lighters. Hyaku-shiki (the gold mech that Char/Quattro pilots)? A Zeon lighter? So cool.
Or if you want to be really esoteric, go for a ring with the Aniheim Electronics logo on it. This is the company that made the original Gundam RX-78.